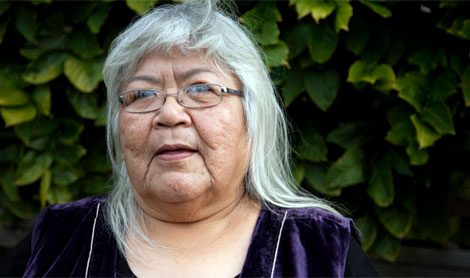 Sarah James, Board Member/Spokesperson Gwich'in Steering Comitte, Neet'sai Gwich'in (Caribou People), the Artic Village (Alaska and Canada). Photo: © Isaac Hernandez, All Rights Reserved.


Excerpt from Carlos' Fresneda story, which you can see
here
in Spanish.
"'I'm the
other Sarah
of Alaska, I belong to the Caribou Nation and I live in the Sacred Land where life begins...' This is the way Sarah James, 65, introduces herself in public. She's the
voice
of the Artic National Wildlife Refuge."
Unlike Sarah Palin (who wasn't even born in Alaska), the roots of Sarah James go back 20,000 years, when the Gwich'in arrived to this spectacular and inhospitable lands following the route of the Caribou, nutritional and spiritual provider for the northernmost Native American tribe.
'The Caribou population has been reduced from 189,000 to 100,000 heads in just 20 years, and that's for us a cruel warning (...) The loss of the Caribou would be like the loss of the buffalo, which ended with many indigenous cultures in the West more than one century ago.'
We met Sarah at the Bioneers Conference (
link
) in Marin, California. She's educating the world about the dangers of global warming, which they're feeling greatly, with the dissappearance of the permafrost and numerous changes in the wildlife there.
The El Mundo story is a quick taste of this amazing story. And this blog is just the tip of the full interview, which is available for publication, if anybody is interested.